I'm in terrible mood so it seems appropriate to write bout the holidays, since this is
Columbus
Day
, aka horribly-murder-15-million-people day. Josef Megele didn't get a holiday,
Shiro Ishi
didn't, why does CC?
Thinking of the Spanish invasion of the Americas always bring to mind two images from the history books. Something most people don't know is that the Spanish dominance rested, as much as on horses and gunpowder, on the use of war dogs. These were like giant pit bulls on steroids, trained to kill. You might not want to read the next two paragraphs.
------
One is an event De Las Casas mentioned in passing, as not at all out of the ordinary. The Spaniards went to a native village to buy food and one of their dogs disemboweled a pregnant woman so her infant was left hanging out. They called the dog off, but don't picture any medics rushing to help her, they held off so that the priest could baptize the baby, to save it's immortal soul, you see. Then they set the dogs back on her.
The other image is one of Ponce De Leon's crew in Florida who couldn't get to sleep, because of the screaming from an Indian they had roasting over the fire. He solved the problem by cutting the man's vocal cords so he couldn't scream. That he knew how to do that bothers me.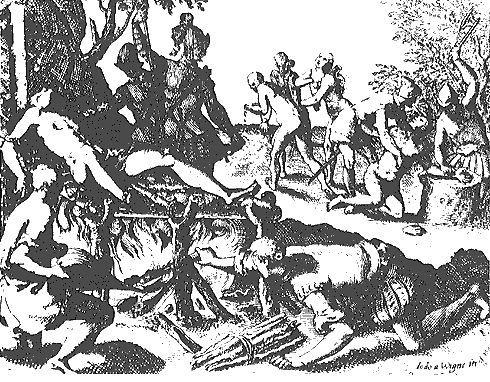 --------
Remember
the words of the guy this day is named after;
all this was done
"to conquer the world, spread the Christian faith and regain the Holy Land and the Temple Mount."
How
Islamic a country is is a good measure of how much
of a hellhole it is. Anybody out there who says things would be different if Christians were in power, go read a history book. Also, go fuck yourself. And fuck Columbus, and this stupid holiday.